Today my partner brought home a pumpkin to carve for halloween. Since I've never carved a pumpkin before (I know! How sad!) he left the decision of what to carve up to me.
Pretty cool. But not my pumpkin.
Last year he kindly carved a rather ordinary face, so I wanted to do something different. At first I was very tempted to go with some of
these amazing designs,
although I realised pumpkin carving skill was a missing factor.
So I did what every sensible person does and asked on twitter what I should carve, which revealed
this design
of DNA. Cool, huh?
But that's biology. I'm a physicist. But it got me thinking... this years most welcome news in my field was the recent awarding of the
Nobel Prize to Higgs and Englert
. Well, there was only one thing I could carve.
I asked my partner for help but he declared I was simply too much of a geek (which I took as a compliment in this instance) and that I was on my own.
Dear readers, I present you with my very own Mini Pumpkin Collider:
The mini pumpkin collider.
For those of you in the know, that is a representation of a Higgs decay in the CMS event display. A little bit like this one.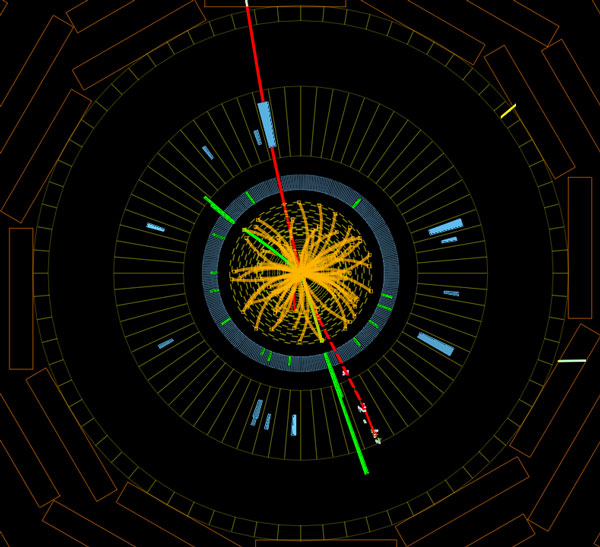 I've borrowed this image from CMS, sorry guys).
Protons collide in the CMS detector at 8 TeV, forming Z bosons which decay into electrons (green lines) and muons (red). Such an event is compatible with the decay of a Standard Model Higgs boson (Image: CMS)
My pumpkin-friendly version of the event display.
You're welcome to steal it as a template but I'm sure your own would be better!
Carved and waiting to be lit up to recreate the big bang!